~ Fishartist~
Fish in Peace
13.2.1967 – 18.2.2012
This website was set up by Jeremy Norris to unite fellow fisherman and share his love of fishing. With much sadness this is to inform you that Jeremy lost his life pursuing his passion.
Jeremy set of on February 12th to visit New Zealand, a country he adored and was returning to again
"I knew one thing for sure – fishing Lake Taupo's rips at night had hooked me and I knew that one day I would return,"
(Chasing Dreams, 2009) he meet up with fellow fisherman friends that he admired and loved, friends that looked forward to his visit.
On February 18th 2012, Jeremy was fishing in the Tongariro River, New Zealand – no-one will ever know the exact events of that day but he was later found by a fellow fisherman, he had drowned.
He had fished his way around the world, very often on a wing and a prayer and over many years he experienced every kind of fishing adventure, sea fishing, rivers and lakes with a need to do this "before it all changed."
In New Zealand he had found the ultimate fishing paradise with good friends at his side and reciprocal respect as a dedicated fishing eccentric – he was welcomed into the community of the Taupo fishing scene.
Jeremy lived for the next opportunity to get back to doing what he loved. Whilst in New Zealand he often had his leg pulled about being the rich illegitimate son of an English lord…..how else could he afford to be there for three months at time fishing. But Jeremy lived a frugal life in Somerset in order to refuel his passion when he could; "To be fly fishing in Taupo, New Zealand as a man, felt like coming home." (Chasing Dreams, 2009).
His website gives you an inside view of who Jeremy was. He has already written and published two books, Against the Current (2008) and Chasing Dreams (2009) and had just completed his third book dedicated to the Taupo Fishermen, the website will be updated when and if there is more information on this.
Jeremy wanted to share his love for his pursuits by documenting his adventures, filming his fishing and using his artistic talent to paint the pictures of what he loved and what he lived for.
All of us will be getting older, but in our minds, thoughts and feelings Jeremy will be fishing forever. Please enjoy and celebrate the life of a very special fisherman who died doing what he lived for.
Every man's life ends the same way. It is only the details of how he lived and how he died that distinguish one man from another."
― Ernest Hemingway
WELCOME TO FISHARTIST!
www.fishartist.com is a website dedicated to fishermen containing a collection of fish art, photography, oil paintings, and watercolours of fish from around the world. I have written two books about my fishing adventures both are available to buy on this website.
I hope you find the site interesting.
Jeremy Norris - Fishartist.
Fishing, Art, or photography related websites wishing to link up to me again please email:- jernorris@hotmail.com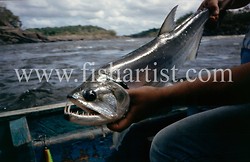 Gallery
Taupo New Zealand 2011.

(Contains 24 photos)
Photos from my latest trip.
The Fish Trophy Room.

(Contains 19 photos)
Photographs of some of my largest gamefish!
Bonefish & Tarpon.

(Contains 69 photos)
Bonefish and Tarpon are two of the great sportfish of the world. Fly fisherman prize them greatly for their beauty and fighting abilities, they will test both fisherman and tackle to its full.
Bonefishing 2010.

(Contains 20 photos)
Bonefish Photographs from my Lastest Bonefishing Trip.
Fish Art for Fishermen.

(Contains 24 photos)
A gallery of Fishing Art for fishermen. Trout,Bonefish,Marlin,Payara,Giant Travelly,Mahseer,Oil paintings on canvas using a palette knife, watercolours and pencil sketches on handmade paper showing fish from around the world.
Payara of the Amazon Rivers.

(Contains 20 photos)
A Portfolio of photographs of the vampires of the Amazon Rivers a truely amazing fish named Payara.
Watercolours of Taupo Trout.

(Contains 20 photos)
Watercolour paintings of the Rainbow trout of Taupo.
Mahseer Fishing India.

(Contains 24 photos)
Mahseer the Giant fish of The Famous Cauvery River Southern India. These amazing fish are one of the most powerful freshwater fish in the world. Fisherman have been hunting the Mahseer ever since the turn of the century.
Trout Fishing - Taupo New Zealand.

(Contains 70 photos)
A Fishermans Paradise - Photographs of Taupo trout and its fisherman in and around Lake Taupo New Zealand for all fly fishing fanatics to enjoy.
Fishermen of Taupo.

(Contains 23 photos)
A portfolio of just some of the fishermen who chase Trout in and around the lake and rivers of Taupo.
Trout of the Tongariro River.

(Contains 16 photos)
A gallery of fish and fishing photography taken whilst fishing the Tongariro, a fly fishermans dream trout river.
Sturgeon of the Fraser River.

(Contains 17 photos)
Photos of Sturgeon & Salmon fishing on the mighty Frazer River British Columbia - Canada.
Marlin Fishing.

(Contains 22 photos)
A gallery dedicated to the amazing sport of Marlin fishing the highlight in any fishermans career.
Eyes of a Fisherman.

(Contains 16 photos)
The world seen through the eyes of a fisherman and fish artist.
Fishing Bone Carvings.

(Contains 8 photos)
Bone Carvings of fish in deer and beef bone by the Fishartist.